[:no]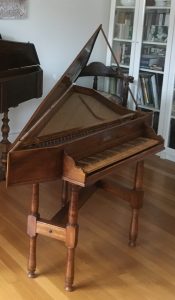 Konsert 2.9 kl 14.00 John Lunds plass 3, 2. etasje.
Da Griegakademiet ved årsskiftet 17-18 fikk tilbud om å ta over en større samling CD-plater med ensembler og musikere i HIP-kontekst, ble det naturlig å se på tidligmusikketasjen på John Lunds plass 3 som sted for å huse samlingen. Det var professorektepatet John og Hilary Birks som tilbød samlingen, som viser seg å være ca 1000 plater de hadde dubletter av. Gjennom kontakten for å planlegge og organisere samlingen kom det fram at de to hadde et engelskbygd spinett stående, som ikke var blitt vedlikeholdt på en stund. Cembalisten i Bergen Barokk, Hans Knut Sveen, tilbød å se over instrumentet og sette det i spillbar stand. Det er masterstudent på Griegakademiet, Thor-Halvor Straume, som arbeider med å plassere og katalogisere CD-samlingen.
Søndag 2. sept inviterer de involverte til en konsert og markering av at spinettet er klart og CD-samlingen på plass.
[:en]Concert on the spinet of John and Hilary Birks, and presentation of their donated CD-collection to the Grieg Academy.
John Lunds plass 3, 2. etg., Sunday 2 Sept at 2:00 PM.[:]