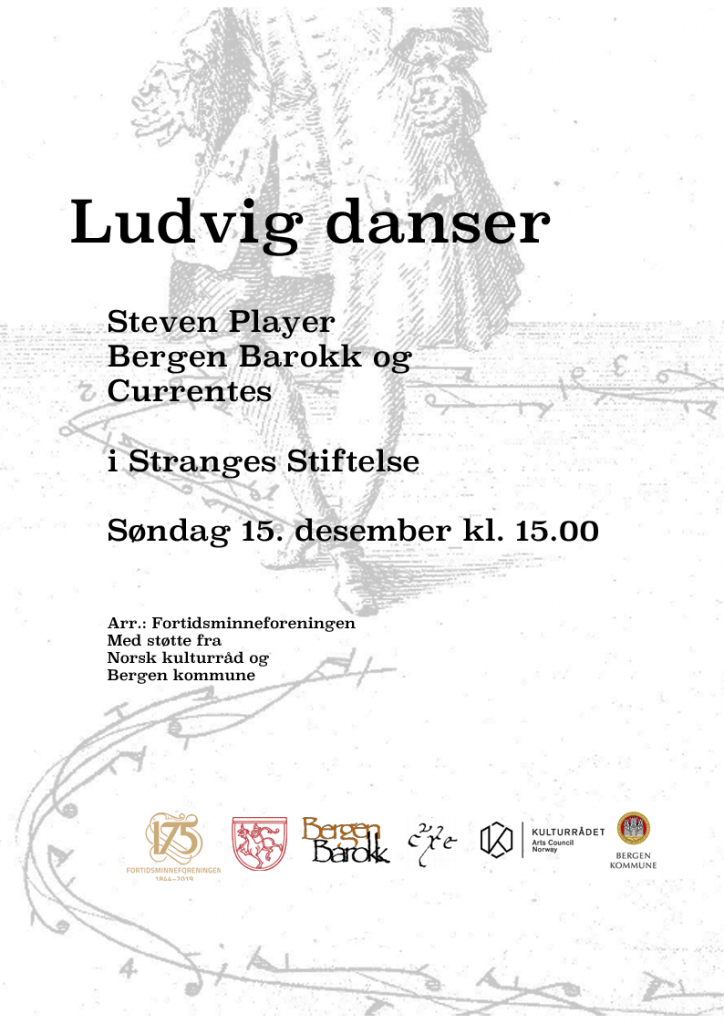 [:no]Kan vi se musikk?
Javisst, – det er en kjent sak at himmelvelvingen med stjerner og planeter fra gammelt oppfattes som en den idelle musikk og at det vi hører er kun en etterlikning av et filosofisk konsept. Men en visuell uttrykksform som dans har også en sterk evne til å visualisere det vi hører, eller kanskje er musikken også der en etterlikning av det vi ser?
I mange praksiser er det i hvert fall dansen som legger grunnlaget for både mål og mening i den musikken vi hører.
Når vi presenterer programmet "Ludvig danser" så liker vi å holde det åpent hvilken Ludvig vi tenker på, og det kan gjerne være den antakelig ikke-dansende Ludvig Holbergs fascinasjon for musikksmaken til den dansebesatte Ludvig XIV som danner inspirasjon.
Bergen Barokk og Currentes samler sine musikere og møter danseren og musikeren Steven Player i Stranges Stiftelse den 15.12 kl. 15.00 for å framføre musikk og dans koblet til Solkongens hoff og Ludvig Holbergs omtaler, – i et fascinerende bergensk lokale.
Det er Fortidsminneforeningen Hordaland som arrangerer konserten og gjør det med støtte fra Norsk kulturråd og Bergen kommune.
[:en]Can we see music?
Absolutely, musica universalis – an ancient philosophical concept – explains clearly that the real music is to be found in the universe and that what we recognise as earthly and sounding music is only an image of that. However, there is a connection in the Bergen born Ludvig's fascination of the music at the royal Ludvig (XIV)'s court. The connection between visualised music in dance and sounding music will be dwelt upon when Bergen Barokk and Currentes join forces with dancer Steven Player in a performance in Stranges Stiftelse, Bergen 15 December at 15:00.
Host is the National Trust of Norway and the arrangment is supported by Arts Council Norway and Bergen Culture Council.